It looks like your browser is outdated. Please update to the latest version in order to get a better experience.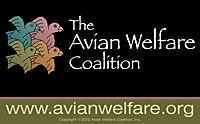 About
Dedicated to the ethical treatment of parrots and other captive birds
Birds are More Beautiful Wild
The Avian Welfare Coalition (AWC) is an all-volunteer advocacy group formed to raise awareness to the issues most critical to the welfare, conservation, and overall protection of avian species impacted by the exotic pet trade and to promote ways to improve the welfare of birds already in captivity.