It looks like your browser is outdated. Please update to the latest version in order to get a better experience.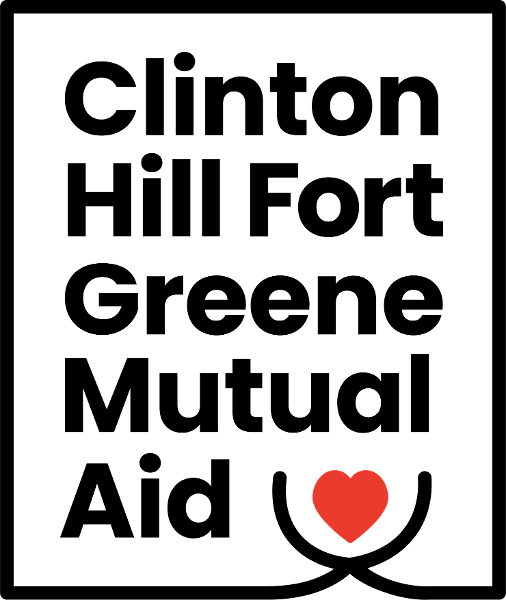 About
CHFGMA is a coalition of neighbors organizing to support each other through COVID-19 and beyond
Support your neighbors with CHFGMA merch! Every dollar raised goes into our Groceries and Essentials Fund which helps provide food, medicine and other essential supplies to our neighbors.
Clinton Hill Fort Greene Mutual Aid (CHFGMA) is a coalition of neighbors organizing to support each other through the COVID-19 pandemic and beyond. Recognizing that our community has been impacted by gentrification and systemic racism, we seek to repair harm and create equity through redistribution and advocacy. We came together in March 2020 when the COVID-19 lockdown began. We created a phone hotline, a website, a Slack workspace, and a weekly newsletter. Since then, we've organized a network of thousands of neighbors, to share what we have and fulfill what we need.

We established our Groceries & Essentials Fund to cover the costs of these items for neighbors who cannot afford them at this time. Over the last 7 months, we have responded to requests from over 700 households in the area, redistributing over $159,182 through over 1,617 shopping trips. We are raising money to keep our Groceries & Essentials Fund going. Continuing to support household shopping is vital. Unlike a food pantry package, grocery shopping allows families to continue to cook for themselves in the ways they want, with food they choose. The majority of shopping is paid for by our fund, and we're currently spending about $7,000 per week to cover ~60 household shopping trips. We rely exclusively on donations. Every dollar raised goes directly towards purchasing essentials to keep our neighbors fed and well.

There are many ways to get involved. If you'd like to learn more, please visit our website at https://www.chfgma.org/ and follow us on Instagram and Facebook.