It looks like your browser is outdated. Please update to the latest version in order to get a better experience.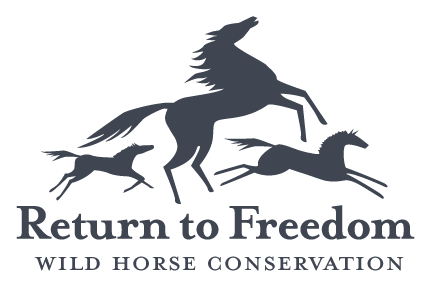 About
All products support wild horse and burro sanctuary, education, conservation and advocacy.
Sanctuary, Education, Conservation, Advocacy
Founded in1997, Return to Freedom is dedicated to preserving the freedom, diversity and habitat of America's wild horses and burros through sanctuary, education, advocacy and conservation, while enriching the human spirit through direct experience with the natural world.
RTF's focus is to meet the immediate needs of rescue and sanctuary for wild horses and burros displaced by government roundups as it works on solutions to preserve them in viable free-ranging herds on our public lands for future generations.In 1997, Return to Freedom (RTF) was founded with the goal of taking a solutions-focused approach to ensuring the survival and preserving the diversity of America's free-ranging wild horses on their rightful rangelands. RTF's American Wild Horse Sanctuary was designed as a model to explore minimally intrusive management that can be applied on and off the range as an alternative to the costly and traumatic capture and warehousing of fractured wild horse and burro herds.
The sanctuary currently provides a safe haven to 450 wild horses and 50 burros, filling a dire need to provide a place where wild horses can still roam free without threat of removal, harassment or slaughter. The sanctuary focuses on maintaining natural family and bachelor bands and reuniting bonded family and social groups that were separated as a result of roundups.