It looks like your browser is outdated. Please update to the latest version in order to get a better experience.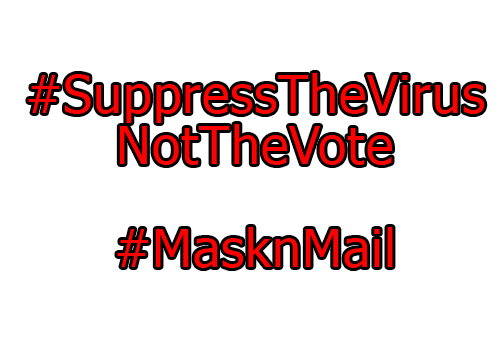 About
Be a PATRIOT - share this with ALL your friends! Everyone must be able to VOTE!
Act NOW To Protect The VOTE
I realized that my family's circumstances would not improve until the virus is suppressed ……..
aaaaaand that won't happen unless things improve in government……...
aaaaaand that won't happen unless people are elected who will actually DO SOMETHING…….
aaaaaand that won't happen unless everyone, EVERYONE has a chance to vote.
Sooooo this is my way of doing something

- Regardless who you vote for, your ability to vote must be free and fair without suppression! All Americans have that right.
Misinformation and mixed messages have muddied our ability to exercise our franchise.

- The funds for this campaign are being sent to three organizations fighting on the front lines to PROTECT OUR ABILITY TO VOTE WITHOUT INTERFERENCE.

- From protecting our Voter Rolls, to our ability get ballots and get to the polls or fight intimidation at the polls; these three organizations that are committed to the long term fight.

- Now we've got shenanigans at the Post Office and who knows what as we get closer to the election.
AND AFTER THE ELECTION ......

- there will be even more we need to do, to make sure that every person eligible can exercise the franchise!

---In March we shuttered our Pilates business. Now we're struggling to make ends meet. We ended up permanently closing 2 Studios and can't safely open the last 3 until the virus is suppressed. We've kept most of our staff employed, kind of.
---Like many of you we are putting our best foot forward and holding on. We wish you all the best!


* Full Disclosure: - 30% is going to each of the charities: Fair Fight Action - Stacey Abrams, More Than a Vote - Lebron James, ACLU Legal - 10% is going to FB and Insta advertising and hopefully a small profit for us. Every penny counts right now.

- Regarding pricing, on average there is about 1/3 of the list price going towards the charities and 2/3 going to the raw product, multi color printing and distribution.

- REMEMBER IT'S A CHARITY and priced to provide as much as possible to the cause. Thank you for your contribution.